"ADPP Teacher Training College Cacheu taught me how to be creative and flexible in the classroom and in the community." – Gidro Bandeira, practicing primary school teacher in Guinea Bissau.
In Guinea Bissau, only 67% of children in school age attend school in urban areas compared to 57% in rural areas. Less than half of children finish primary school and only three-quarters have access to schools (UNICEF, 2014).
In rural areas, 60% of teachers do not have access to in-service training, having a direct impact on the quality of education. Further, the national primary pupil-to-teacher ratio was 52:1 in 2009/10 (UNICEF, 2012).
Key factors identified as constraints of education development are late school enrolment, child labour, poor academic achievements, insufficient school equipment and pedagogical materials and inadequate pre-service and in-service teacher training (UN, Guinea-Bissau 2013).
To contribute to changing the prevailing conditions, ADPP Guinea-Bissau established the Teacher Training College Cacheu in 2012 to train teachers and capacitate them to stay in the rural areas. By 2019, ADPP Guinea-Bissau had trained 165 teachers whom the Ministry of Education employs.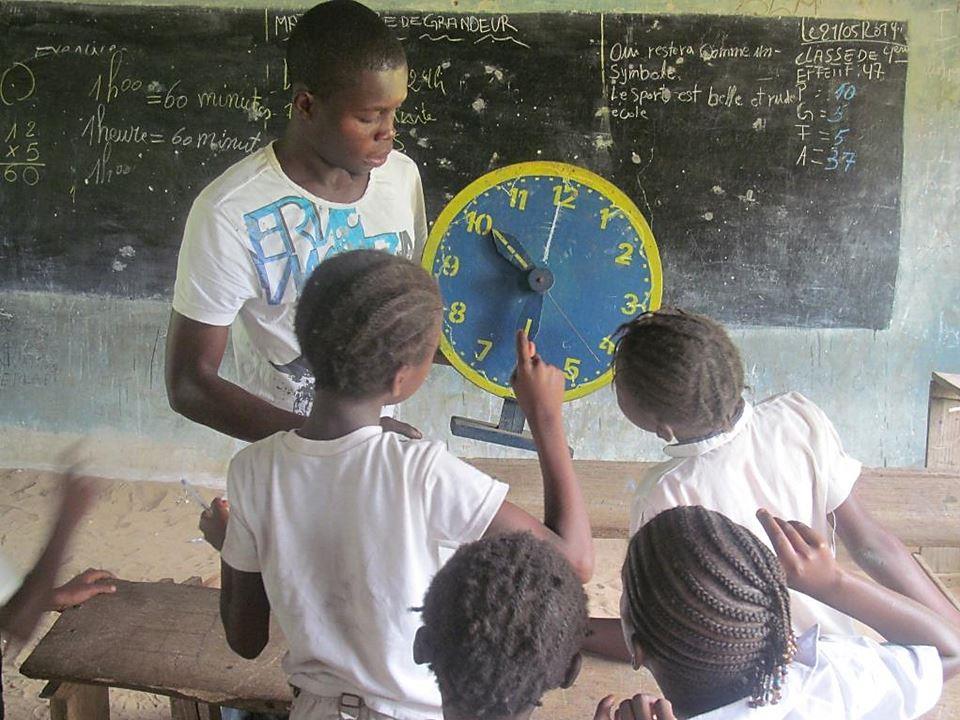 The Teacher Training College Cacheu's training is characterized by strong practical and civic capacity building component. The curriculum includes classical as well as non-classical, innovative subjects which are related to the major development questions of today. The Teacher Training College Cacheu has a 3 year programme, which includes 11-months full time teaching practice in public rural primary schools. The programme strives to train the youth not only to be good primary school teachers but also to engage themselves to act as development agents with constructive approaches to rural communities, and increase the youth opportunities to pursue further education
Each year has its specific Headline:
Year 1: The year of Another Kind of School.
Year 2: The year of Teacher Politics.
Year 3: The year of another Kind of Teacher.
The programme progressively develops the professional skills and the human capacities and qualities of the future teachers. It is divided into 20 periods with durations of 1 to 6 months, depending on the content.
From the very start, the students do considerable teaching practise. This is to ensure that the teacher-to-be gets hands-on experience and gains courage in his/her future profession from the beginning.
The periods are combined with identifying needs in the communities and formulation of initiatives which are undertaken to solve the issues affecting community development. The programme includes longer periods of national and international study tour aiming at knowing the social and economical reality of people in the communities, making friends with people and gaining knowledge from own experience.
The Teacher Training College's curriculum fits within the National Education Strategy and is recognised by the Ministry of Education, with which ADPP-Guinea Bissau works. The two parties in 2008 signed a Memorandum of Understanding to establish and operate teacher-training colleges.
Below are two testimonies from former ADPP-Guinea Bissau Teacher Training College Cacheu students who are now practicing their profession:
Student: Patricio Pereira
"I am happy to become a Teacher and a Human Rights Activist in my community promoting Gender Equality. I personally knew that the man and the woman have equal rights but the elders in the communities did not know. I gave lectures on the gender issue to change the mind of the heads of families, the rulers, and the elders.
As a Teacher and a Human Rights Activist, I fought for the right of children, from 6 months to 5 years of age, to receive free medicines from the health centre which I managed, I never thought it would be possible."
Student: Gidro Bandeira
"The Teacher Training College gave me a lot of knowledge, which I gained through both curricular and extra-curricular experiences. The Teacher Training College Cacheu taught me how to be creative and flexible in the classroom and in the community.
During the National Investigation period, I made a research about the causes of girls' school non-attendance in different regions and sectors of the country. The data that I collected from the interviews made me implement a micro-project called Women Advocacy. I carried out awareness raising activities for parents and guardians on gender equality, and organized lessons for my students.
The experiences I gained inspired me to establish a small women-driven association in my community where I cordinate different awareness-raising activities with children, youth and adults on topics that I learned at the college."